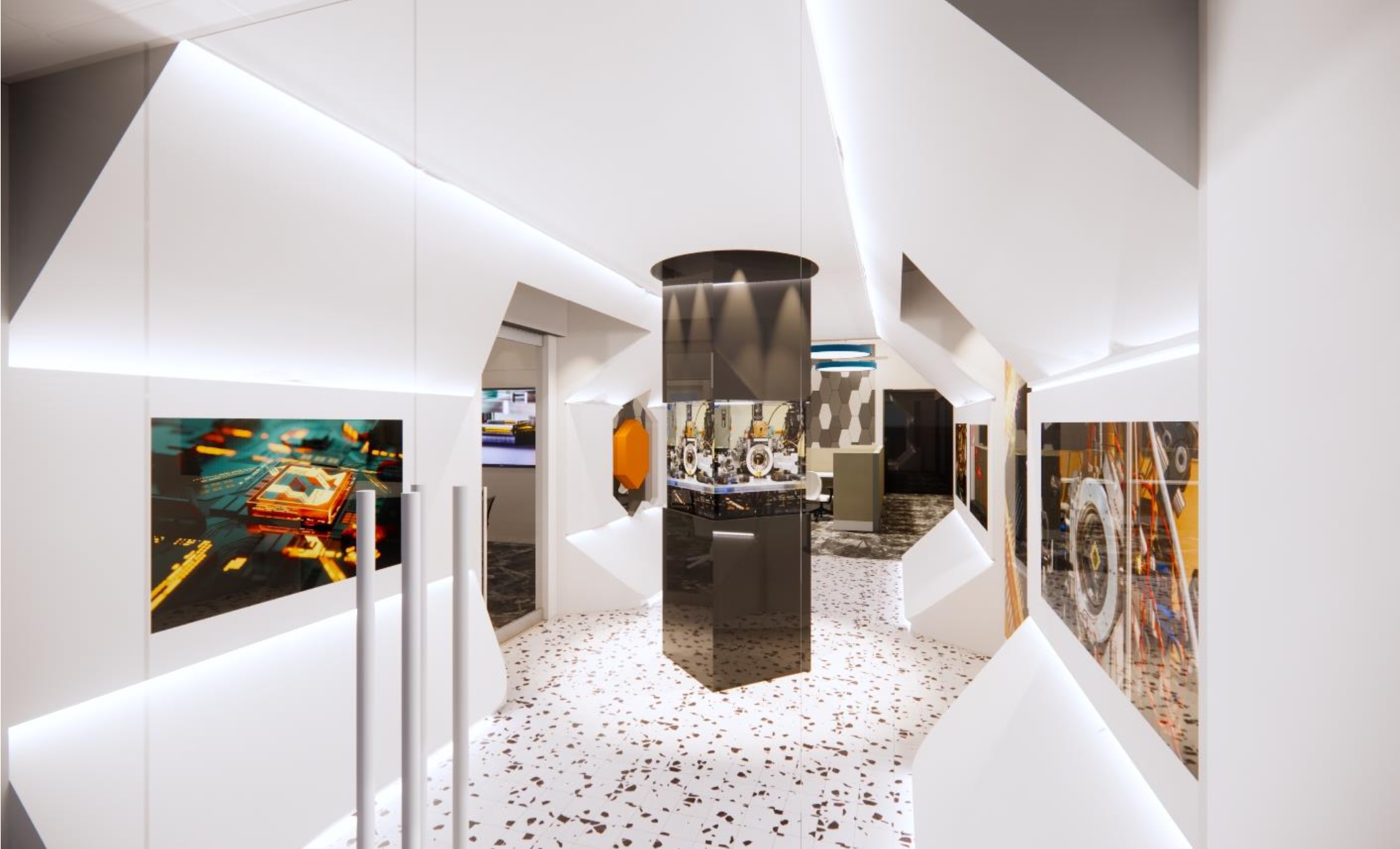 Welcome
Q-Lab, the National Quantum Lab at Maryland, is a new user facility of the University of Maryland in partnership with IonQ Inc, a leading developer of quantum computing devices, located in the Discovery District at 4505 Campus Drive, College Park, MD.
Q-Lab provides unique research and teaching opportunities using innovative technologies in the field of quantum computing to serve the scientific user community at UMD and beyond. In concert with other quantum initiatives at UMD, Q-Lab provides a supporting infrastructure for an innovation ecosystem for quantum technologies and offers a supporting environment for thought leadership to come together for the exchange/sharing of ideas in the evolving space of quantum technologies.
Q-Lab's mission is to advance knowledge and expertise in the novel field of quantum computing by
offering training (bootcamps, workshops, classes) in practical quantum computing to students, faculty, staff, and external researchers;
providing privileged access to IonQ's trapped-ion quantum computers;
advancing research in early applications of quantum computers and quantum networks;
connecting researchers from multiple disciplines with interest in these novel fields;
mentoring tomorrow's experts in quantum computing, its application and technical realization.
Q-Lab and IonQ are also end-nodes of a local quantum network connecting ion-trap labs throughout the campus and the Discovery District: JQI/Atlantic, IREAP, ARL, MAX, IonQ, Q-Lab. The quantum network enables quantum computers to communicate over large distances on the internet while preserving quantum coherence (entanglement). This quantum network forms the core of the Mid-Atlantic Regional Quantum Internet (MARQI), which will be built out over the next years.
Meetings, Workshops, Bootcamps, Courses
The Q-lab facility encloses a conference room as well as offices and cubicles. Regular meetings on quantum computing related topics will be announced when the remodeling of the suite has been completed.
A Bootcamp on Quantum Computing for Earth Science is being offered on August 15-19, 2022.
The Q-Lab Seed Grant Program has been launched on Feb 22, 2022. In the first round (Spring 2022) six teams were awarded.
The Undergraduate Quantum Association meets weekly (in Spring 2022 every Monday at 6 PM).
A Quantum Hackathon track is offered at UMD's bitcamp on April 8-10, 2022.
Workshops on practical quantum computing are being offered throughout the year.
Workshops on quantum algorithms are being offered throughout the year.
Dr. Charles Clark, JQI/NIST, teaches again a Quantum Boot Camp in Summer 2022, Session 1b. The boot camp emphasizes understanding of basic devices, including polarizing beamsplitters, which can be used to make quantum random number generators.
Dr. Xiaodi Wu, CS, teaches the course "Introduction to Quantum Computing" (CMSC457/PHYS457) in Spring 2022, a rigorous treatment of core quantum computing topics as well as basics concepts in theoretical computer science and physics.
If you are tied up on the workshop/bootcamp days, you may take a look at our Quantum Computing Tutorial.
Quantum Initiatives at the University of Maryland
University of Maryland is recognized as a leader in the quantum field.